It's official: The Big Aristotle AKA Shaquille O'Neal has hung it up.  Well, at least official on Twitter.  As the NBA great tweeted:
im retiring Video: http://bit.ly/kvLtE3 #ShaqRetires
Yep- that's how he decided to retire.  With a short, somewhat awkward good-bye video on twitter.   Though, in fairness, has Shaq ever been, well, normal?
Shaq made sure to reach out to at least one former teammate, tweeting at Jockosphere favorite Steve Nash:
@SteveNash Thanks for all the lob passes. Love u boy boy
Really? No thank you tweet at Kobe?  SHOCKER!
For all of Shaq's silliness (and sometimes boorish behavior), he was truly one of the good guys in the league.  For years, he was the league's marquee talent, with his ear-to-ear grin, and his superb athleticism for a guy his size.  Below we posted a video of Shaq's top ten media moments for you to enjoy.  Thanks for the memories big fella- the NBA is a much smaller place without you.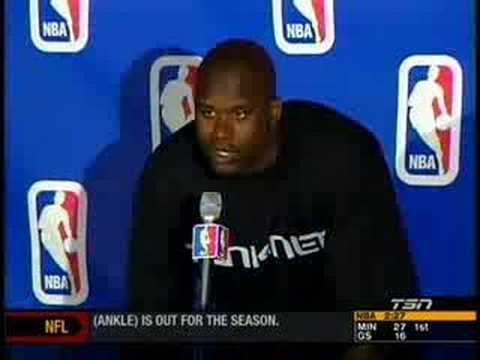 UPDATE: The Lakers have announced that they will be retiring Shaq's #34 in the near future.